Called to Life — Compelled to Love
Ignited by the irresistible love of Jesus and renewed by the Holy Spirit,
we partner with God to deepen faith, share stories and care for God's world.
Vision is about hope, about how we look to the future with our eyes watching the work of our God who is already making all things new in our midst. Our diocesan Mission Action Plan maps how we're trying to live this hope. We're trying to:
Create and implement opportunities to ignite and strengthen faith
Reimagine diocesan culture and adapt our structures to enable ministry
Prioritize social justice action with an emphasis on environmental justice
---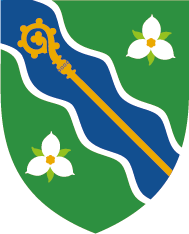 Beloved God,
we are your people
called to walk a renewed path with Jesus.
Be with us, your whole church,
as we seek to rekindle and enliven our faith.
Keep us firm in our commitment
to reshape our culture and structures for mission
and invigorate our social justice engagement,
most especially the nurture and protection of your creation.
Let the whole world see us living and lifting up
the fullness of your love.
Make new those things that have grown old;
and bring wholeness to that which cries out for restoration.
All this we ask through the Spirit of the Living God
and in the name of the Christ
who came among us, is among us, and will come among us.
Amen.