Masks are not required, but some people continue to wear them to services–you're welcome, whatever decision you make for yourself!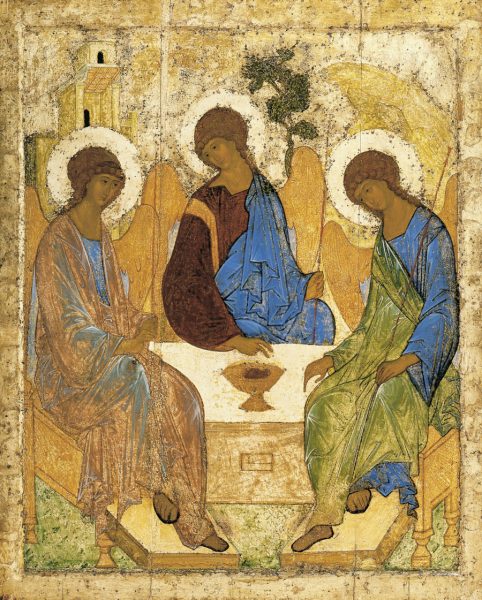 You can join the service, live or later, via YouTube. The live-stream begins at about 9:45 am, and the service begins at 10 am. You will also be able to watch or re-watch the stream on YouTube at this link at any later time.
The order of service is available here. It includes the readings, responses, and the words to the hymns–helping you to join in as fully as possible via the live-stream.
Today is the Feast of the Holy Trinity. Here's what Sundays and Seasons writes about this Sunday and the readings we'll hear:
Though the word trinity is not found in the scriptures, today's second reading includes the apostolic greeting that begins the liturgy: The grace of our Lord Jesus Christ, the love of God, and the communion of the Holy Spirit be with you all. In the gospel Jesus sends his disciples forth to baptize in the name of the Father, and the Son, and the Holy Spirit. More than a doctrine, the Trinity expresses the heart of our faith: we have experienced the God of creation made known in Jesus Christ and with us always through the Holy Spirit. We celebrate the mystery of the Holy Trinity in word and sacrament, as we profess the creed, and as we are sent into the world to bear witness to our faith.
The image used in this post is the icon of the Holy Trinity, written by Andrei Rublev in the 15th century.