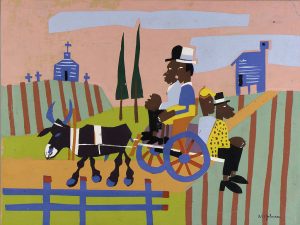 You can join the service, live or later, via YouTube. The live-stream begins at about 9:45 am, and the service begins at 10 am. You will also be able to watch or re-watch the stream on YouTube at this link at any later time.

The order of service is available here. It includes the readings, responses, and the words to the hymns–helping you to join in as fully as possible via the live-stream.

Today is the fifteenth Sunday after Pentecost. Sundays and Seasons offers this reflection on today's readings:
Conflict is a part of relationships and life in community. Jesus' words in today's gospel are often used in situations having to do with church discipline. Paul reminds us that love is the fulfilling of the law. We gather in the name of Christ, assured that he is present among us with gifts of peace and reconciliation.
Our cover image is a screenprint on paper by the artist William H. Johnson, entitled "Going to Church." This image is in the public domain.