Due to the wide-spread community transmission of the Omicron variant of COVID-19, our worship services are currently only online. We encourage you to limit the number of people you encounter, and to get the vaccinations and boosters that are available to you: keep yourself as safe as possible, and strive to protect others!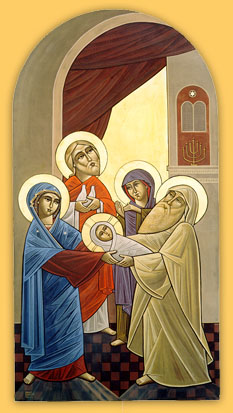 You can join in our Sunday service, live or later, via YouTube. The stream will begin at about 9:45 with a welcome and some prelude music; the service will begin at 10 am.
To make it easier to join in the responses and to sing along with the hymn of the day, make sure you have the order of service handy!
This week, we're keeping the feast of the Presentation of our Lord Jesus Christ in the Temple–so our gospel will tell the story from Luke of Mary and Joseph bringing Jesus for that ceremony, and what happens next. (Luke 2.22-40) We'll also hear the prophet Malachi speaking about how the coming of the Lord will purify and make new all of God's people. (Malachi 3.1-4).
Here's Sundays and Seasons' take on this festival and its readings:
The Presentation of Our Lord is referred to in some corners of the church as Candlemas because of an ancient tradition of blessing all the candles to be used in the church in the coming year at the mass celebrated on that day. It was a way of underscoring the truth of Simeon's confession that this baby Jesus was "a light for revelation to the Gentiles" and a light for glory to Israel. Let the light of every candle in church be a little epiphany of the love of God for all people in the person of God's son, Jesus, the light of the world.