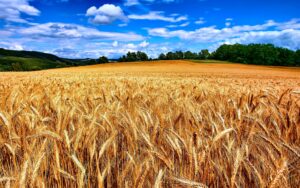 You can join the service, live or later, via YouTube. The live-stream begins at about 9:45 am, and the service begins at 10 am. You will also be able to watch or re-watch the stream on YouTube at this link at any later time.

The order of service is available here. It includes the readings, responses, and the words to the hymns–helping you to join in as fully as possible via the live-stream.

Today is the Sunday just before Canada's National Day of Thanksgiving. Sundays and Seasons offers this reflection on today's readings:
At harvest time we join the psalmist in offering thanksgiving to God: "You crown the year with your goodness, and your paths overflow with plenty." We are grateful for the abundance of the good things of God's creation. Paul reminds us that our thanksgiving overflows into generosity. As the body of Christ in the world, we give ourselves away as bread for the hungry.