Masks are not required, although some people continue to wear them to services–you're welcome at the Nativity, whatever decision you make for yourself!
You can join the service, live or later, via YouTube. The live-stream begins at about 9:45 am, and the service begins at 10 am. You will also be able to watch or re-watch the stream on YouTube at this link at any later time.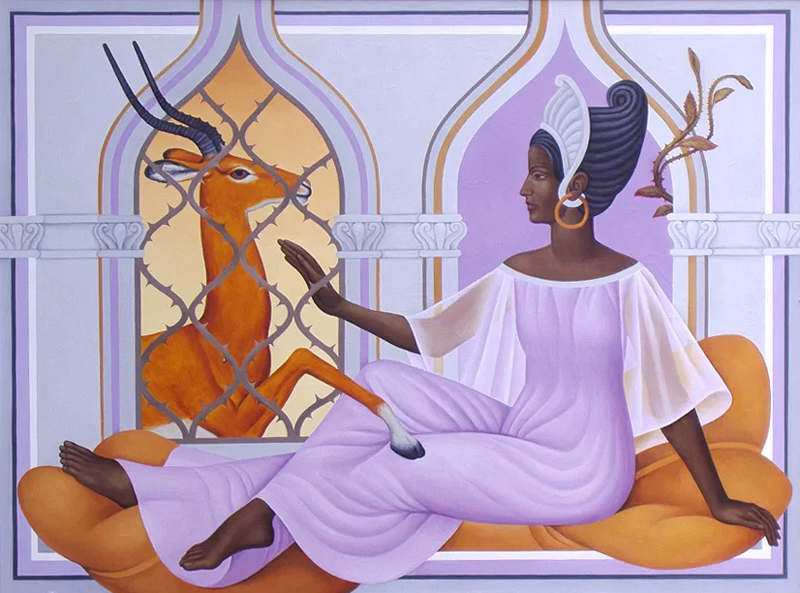 The order of service is available here. It includes the readings, responses, and the words to the hymns–helping you to join in as fully as possible via the live-stream.
Today is the fifth Sunday after Pentecost. Here's what Sundays and Seasons writes about this Sunday and the gospel we'll hear: The mystery of God's ways is sometimes hidden from the wise and intelligent. Jesus associates with those often excluded from the religious community. Like Paul, we struggle with our own selfish desires and seek God's mercy and forgiveness. We gather to be refreshed by Christ's invitation: "Come to me, all you that are weary." Gathered around word, water, and meal, we find rest for our souls.
Our cover image is the painting "Lattice Window" by Peter Koenig. The artist has
granted permission for the non-commercial use of this image with attribution.

Koenig, Peter. Lattice Window, from Art in the Christian Tradition, a project of the
Vanderbilt Divinity Library, Nashville, TN. https://diglib.library.vanderbilt.edu/act-
imagelink.pl?RC=58496 [retrieved June 27, 2023]. Original source: Peter Winfried
(Canisius) Koenig, https://www.pwkoenig.co.uk/.