Good Shepherd Sunday
Alleluia! Christ is risen!
The Lord is risen indeed, alleluia!
Masks are not required for attendance at worship, but many people continue to wear masks to services to protect themselves and others. Please know that you'll be welcome in the service, whatever decision you make about masking yourself.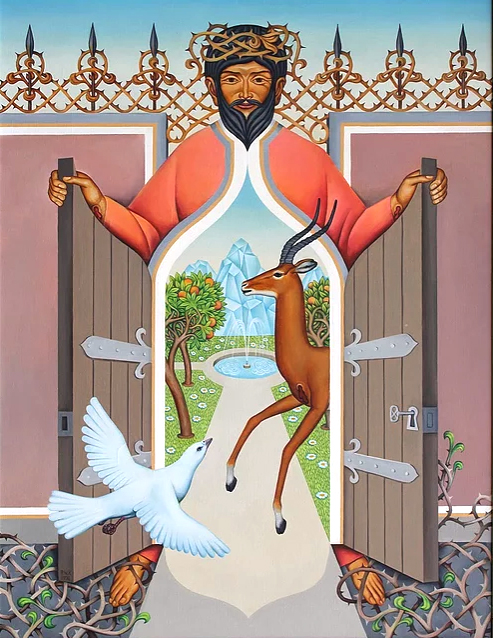 You can join the service, live or later, via YouTube. The live-stream begins at about 9:45 am, and the service begins at 10 am. You will also be able to watch or re-watch the stream on YouTube at this link at any later time.
The order of service is available here. It includes the readings, responses, and the words to the hymns–helping you to join in as fully as possible via the live-stream.
This is the Fourth Sunday of Easter, often called Good Shepherd Sunday. We continue to celebrate the good news of the resurrection. On the Fourth Sunday each year, we hear verses from chapter 10 of John's gospel, and the section where Jesus speaks about being the Good Shepherd. Here's what Sundays and Seasons writes about this Sunday and the readings we'll hear:
Today is sometimes called "Good Shepherd Sunday." Jesus is called the "gate" of the sheep in today's gospel. The risen Christ opens the way to abundant life. He anoints our heads with oil and guides us beside the still waters of our baptism. Each Sunday he spreads a feast before us amid the world's violence and war. We go forth to be signs of the resurrection and extend God's tender care to all creation.
Our image this week is entitled "I am the Gate" by Peter Koenig (20th c.). The artist has granted permission for the non-commercial use of this image with attribution; we are grateful to him for permission to use it!
Koenig, Peter. I am the Gate, from Art in the Christian Tradition, a project of the Vanderbilt Divinity Library, Nashville, TN. https://diglib.library.vanderbilt.edu/act-imagelink.pl?RC=58511 [retrieved April 25, 2023]. Original source: Peter Winfried (Canisius) Koenig, https://www.pwkoenig.co.uk/ .