All are welcome to attend in-person services. We no longer need attendees to preregister, and you will be able to choose where to sit. One side of the church still has some pews blocked off to support those who need to maintain physical distancing. All entry to the building is from the King Street East main doors.
Everyone–without exception–must wear a mask properly at all times while inside the building.
You can join the service, live or later, via YouTube. The live-stream will begin at 9:45 am, and the service itself will begin at 10am. You'll still be able to watch or re-watch it on YouTube at the same link any time thereafter.
Keep this order of service handy! It has the readings, the responses, and hymn texts–so you can join in as fully as possible from afar.
The Fourth Sunday of Easter is often called Good Shepherd Sunday. In each of the three years of the lectionary cycle, we hear a passage from the tenth chapter of John's gospel (the discourse in which Jesus identifies himself as the Good Shepherd). We also always join in the familiar words of Psalm 23.
This year we'll hear the promise Jesus makes of eternal life to his sheep (John 10.22-30).
We'll also hear the moving story about the death of the disciple Tabitha (also called Dorcas), and how Peter raises her from the dead (Acts 9.36-43).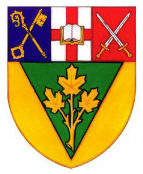 In Anglican circles, this Sunday is also often called Vocations Sunday. Our metropolitan Archbishop Anne Germond has asked us and all Anglicans in the Ecclesiastical Province of Ontario to pray for vocations. She writes:
We believe that all are called to serve God according to the gifts God has given them for their particular context and we give thanks for the ministry of the baptized, praying that on Good Shepherd Sunday we will hear God's call on our hearts in a fresh new way.

God also calls people to serve in a particular way through ordered ministry in the church. This invitation to prayer comes at a key moment in our church and in the province as we move beyond the pandemic in a changing world and church.

https://www.province-ontario.anglican.ca/_files/ugd/5893ce_d867cd14ccb74ae998e3586a6a7b355f.pdf
We join in praying:
Almighty God,
by your grace alone
we are accepted and called to your service.
Strengthen us by your Holy Spirit
and make us worthy of our calling;
through Jesus Christ our Lord,
who is alive and reigns with you and the Holy Spirit,
one God, now and for ever. Amen.